Are Flowers and Chocolates Too Tacky for Valentine's Day?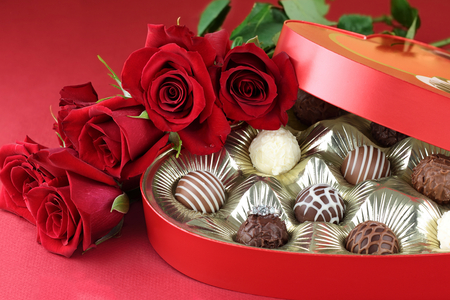 Have you ever received a Valentine's gift from your special someone that's seemed a little tacky for your taste? Well I'm here to tell you that these gifts aren't as tacky as they seem.
Sometimes, we dread this time of year, either if you have a sweetheart or if you are single. We always wonder what gift might be best. There is always the simple route of flowers and chocolates, but have you ever questioned if they were too tacky? I'm here to give you the reasons why they aren't as tacky as you might think and how they might actually improve someone's mood.
Here is a brief history of how giving and receiving flowers and chocolates on Valentine's Day started. Back in the 17th Century, flowers became a part of the Valentine's Day tradition. The most popular flowers used were roses; they were used because they represent love in every way. Roses were Venus's, the Goddess of Love, favorite flower, as she believed that they stand for strong feelings. People started giving roses to those they cared about to show their love; and of course this still lives on today. There is even more history behind this tradition. It comes from Charles II in the 18th Century. Charles started the tradition that every flower had a specific meaning to it. This way people can have an entire conversation with just flowers. Valentine's Day isn't just about the flowers. It's about scrumptious chocolates too. Spanish explorers brought chocolate from the New World back to the Old World. People loved it, and it's influence increased. Chocolates became the candy choice for Valentine's Day.
Well let's be honest with ourselves, even though it might be a little cliché to get a bouquet of roses or a decadent box of chocolates for Valentine's Day, you literally love it. There are always the people that don't like flowers, or just dislike the taste of chocolate, but science says it's natural to blush over those colorful petals and delicious truffles. The reason why you love them on Valentine's Day has very little to do with what the holiday itself, but all to do with your hormones. So whether they're a gift from that special someone on February 14th, or you decide to treat yourself any time of the year, these flowers and chocolates will make you feel great either way. A study observed by a UK flower delivery service, Bloom & Wild, in alliance with the School of Human Sciences at London Metropolitan University, researchers found that flowers and chocolates make you feel loved. Researchers enlisted 30 students for the experiment. They gifted them either a bouquet of Bloom & Wild flowers, Cadbury chocolate, or a bottle of water. According to these findings published in the journal Neuroscience, in order to examine the participants' hormonal shifts, the researchers collected saliva samples from each person before they got their gifts, ten minutes after receiving the gift, and finally forty minutes after receiving their gifts. The study's results revealed that flowers and chocolates seem to naturally raise levels of oxytocin, also known as the "love hormone" in the body.
For myself, I think that flowers and chocolates are a great gesture, but to make it even more meaningful, it's important to add something thoughtful and unique. For example a nice date or experience would make the whole holiday much better.
I do have to say the best gift you could give your partner would be an experience and nice memory. The significant thing about this gift is that it results in you spending quality time together with your partner. It makes this gesture so much more personal. While spending time together, a nice addition might be a beautiful bouquet of flowers to show how much you care. But there is nothing too tacky about giving that special someone flowers and chocolates, even science proves it.
Leave a Comment