Mountain View Library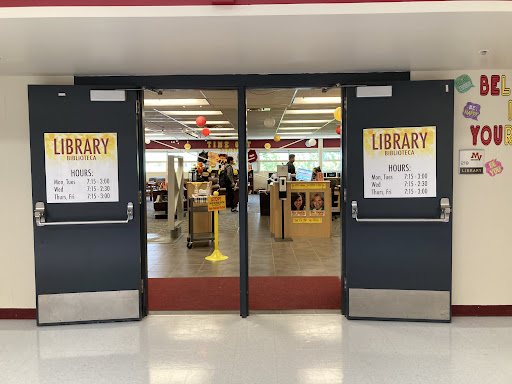 A library is a place where people can get knowledge, enjoy a simple book with a fairytale story inside. Inside the library there are way more than fairytale stories and simply amazing books, there are also events that happen in the beauty of the library, there is always an interest for everyone in the library. In the Mountain View library there are always events happening open to everyone.
This week they started off with an open mic and will go on every Friday. People can sing, do acting or just tell simple jokes or stories for the people to hear. The students don't have to participate, students can just come watch and enjoy the entertainment of other students that are performing.
Did you know that there are escape rooms in the library? They haven't started doing them yet and don't have a date on it . When the escape rooms open, students will be able to sign up with a group and after school go and do the fun escape rooms in the back rooms in the library.
There are always contests happening in the library. One of the contests is a button where students can decorate a button and who has the most creative one gets to display it. That goes the same for the peep competition that students and teachers get to participate in designing a peep diorama with the theme of their favorite book. People who win get prizes that can be airpods and many different things that are pretty cool.
An event that's really important is banned books week. This event is about celebrating the right to be able to read what we want.
The librarians always welcome suggestions for events, there are always chess games available, or it could just be a hangout place for you and your friends. In the library everyone is welcome, and hopefully this article brings more students into the library to explore its wonders.
View Comments (1)