MVHS Choir Concert: "THE SUN, MOON, AND STARS"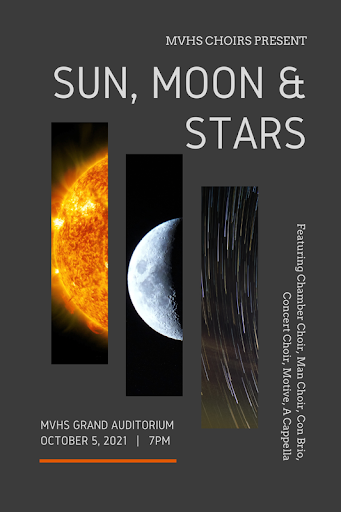 Here's a reason for Mountain View High School to shine like the Sun, Moon, and Stars.
A Choir Concert was performed on October-5-2021. Brett Taylor the Choir teacher at Mountain View Directed the concert for all of the family, and friends of the performers.
Getting into the groups of the whole choir there were a total of 6 in the concert. The names of the choir's are Man Choir, Con Brio, Chamber Choir, Concert Choir, Motive, and A Cappella Choir.
Performing music can be either one of the hardest things to do or the easiest, but one thing that can be difficult to manage is to make the audience feel the emotion of the music. The point of music is to tell a story. You want people to know what it means to you.
The Choir groups all performed well. They definitely captured the theme of the sun, moon and stars.
I'm going to be honest though. There was only one choir that touched my soul. The only choir I could feel the emotion oozing out of them. The Motive choir was one of the best choirs I have ever heard. Getting more into detail, each student in this choir was hand picked by Mr. Taylor himself.
A section of the program explains more about Motive Choir; it says, "Motive is a unique group, specializing in contemporary a cappella music." One song performed by Motive is called Underneath the Stars by Clements. Listening to this song made me feel their emotion especially by one of the soloists in the song named Sharissa Cookson. As soon as she started to sing her solo it was like you were in her shoes. Her voice was so soft, and elegant.
There were also some goofy moments in the performance that got the crowd going wild. The Men's Choir performed a song called Blue Moon By Emerson. There were some dance moves, and the cheesy hair slick. At the end of the song they got down on one knee, and held their hands out like they were proposing. It was a really good way to end the part of the show.
Overall the Choir did very well. I enjoyed listening to all the groups. For future performances I suggest you listen to them. Good job Mountain View Choir.
View Comments(1)