Spirit Halloween 2021 Review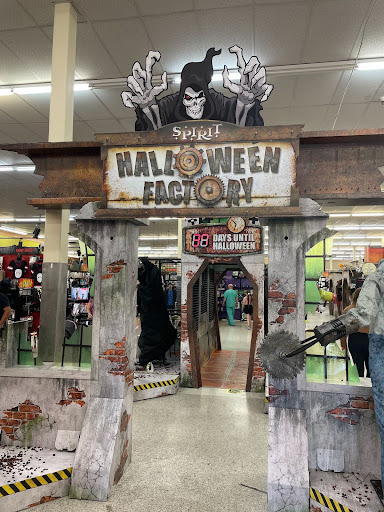 Every year around August, Spirit Halloween banners begin popping up on vacant buildings where stores are no longer operating. For many people (including myself), this is very exciting as it means Halloween is coming soon. Spirit Halloween first opened its doors in 1983. Since then it has become a staple for the Halloween season in the United States. Every year it has a different theme and different items to offer. Since Halloween is only a few weeks away, I thought that I should check out Orem's local spirit Halloween to see if there are any good finds.
Walking into the store, the first thing you see is a display that reads "Halloween Factory" with places where two animatronics should be. Unfortunately only one animatronic was on this front display. When you walk through this display there are even more places for more Halloween robots. Once again, this display was mostly empty. I was quite disheartened, because I really wanted to see all the animatronics that they had to offer. Because of this, my first impression of the store is that it is not as good compared to years past. For more insight I asked for a second opinion on the store; when asked on his first impression on the store Adam Miller a junior here at Mountain View said, "I was underwhelmed considering the reputation the store usually has."
Past these front two displays you get more into the costume and normal Halloween decorations area of the store. There is a wide variety of costumes in different categories to choose from. On the left section of the store is mainly where the adult sized costumes are placed, while the right side is primarily for the children's costumes. The middle of the store as well as some other places throughout the store is where you can find decorations.
The costumes in the store were nicely organized, so you could find what you were looking for. They had quite a bit of variety to choose from, this ranged from subtle costumes to the extravagant. They also had halloween shirts if you don't want to dress up but still participate in the Halloween spirit. When asked on her thoughts on the costume selection local Orem teenager Ava Folkman stated, "Good variety yet some are poor in quality." One thing that I did notice about the costumes though is that while they may have a lot the quality was lacking. I also noticed that many of the costumes came in a very limited range of sizing, because of this the store was not very size inclusive to many people. Overall the costume section was hit or miss depending on what you are looking for.
The final thing that I wanted to check out when going through the store was to see what decorations they had to offer. To be honest I was quite disheartened to see that they had very few just general Halloween decorations. Being a Halloween specialty store, I expected to be able to find a lot of decorations for any type of Halloween asthetic, however that was not the case. Adam Miller had this to say about the decoration selection, "The decorations were cool but there weren't many besides the animatronics." Overall, I would have to agree with Adam's statement in terms of what the store had to offer in the decorations department.
Overall, I love Spirit Halloween but this was not their best year. "It was kind of boring. I saw lots of cool Spirit Halloween stores on TikTok, but the one I went to was boring." said Adam Miller when asked his overall impression of the store. However on the other hand when asked about her overall experience Ava Folkman had this to say, "Funtime it got me in the Halloween mood." My final thoughts on Spirit Halloween would be that I would recommend going to get into the Halloween Spirit. Although years past may have been better than the current selection, it is still a Halloween activity that I would look forward to. So even if you don't plan on buying anything, it is still an experience everyone should try this Halloween season.
View Comments (2)