Ben Roethlisberger's retirement from the NFL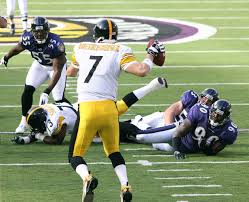 Ben Roethlisberger, also known as Big Ben, has announced that he is going to retire from the NFL after this 2021 season. He will be leaving the Pittsburgh Steelers, who are a good NFL team. Ben Roethlisberger was picked in 2004 by the Pittsburgh Steelers, and was a first round pick from the 2004 NFL draft. He graduated from Miami University in Ohio and was a very skilled player while playing for them. Ben was so good that he was given a chance to get drafted into the NFL. After the 2004 NFL draft he was chosen by the Pittsburgh Steelers and replaced his injured predecessor Tommy Maddox. He replaced him during the Steelers second game of the 2004 season. He soon became the 1st string quarterback for the Pittsburgh Steelers from then on Ben Roethlisberger led the Steelers to a 15-1 season in 2004. With the Rookie Ben Roethlisberger the Steelers made it to the AFC Championship, but lost to the New England Patriots.
After that Season he became one of the greatest quarterbacks in the country. Big Ben led his team to Super Bowl XL in 2006 and they won against the Seattle Seahawks, and the score was 21-10. He then led them to Super Bowl XLIII in 2009 and won against the Arizona Cardinals, and the score was 27-23. Ben Roethlisberger won 2 Superbowls in his career, which is fantastic for a quarterback. He stayed playing for the Steelers for 17 years, and his name entered the NFL Hall of Fame in 2017, which is big for him and the Steelers. Unfortunately he is planning to retire after this current 2021 season.
Many think that with Ben retiring from the Steelers, they will have a rough time in their next season. Since they are going to be without their great Hall of Fame quarterback, they will surely deal with a hard season. Many people think the Steelers will lose and won't be a good team anymore without Ben Roethlisburger. People are talking on podcasts about the Steelers and their upcoming problem with Ben retiring. Podcasts such as Behind the Steel curtain, Penn live, Steelers depot, and many others are talking about the future of the Steelers team. Some Podcasts say that the Steelers will go through many hard challenges and will have to go on without their Hall of Fame quarterback that has been with them for 17 years.The Steelers will still continue on to be a good NFL team but they will be hurt without Ben Roethlisburger.
My family and I are huge Steelers fans, and we love football. My dad feels conflicted about Ben Roethlisburger retiring from the NFL. He said "I think the Steelers will go through a hard time and I know they will bounce back like they always do." He means that the Steelers will recover from this loss of a good quarterback with new NFL players coming from the Draft. My Father will move on from this hard news and hard realization of Ben retiring.
Another opinion is from one of my friends. He said "I love Ben Roethlisburger as the Steelers quarterback but he is getting old and needs to go on with the rest of his life." He is saying that Ben Roethlisburger has a life outside of Football and he can get into it when he fully retires. His opinion was very different from others saying he has to go to focus on his life rather than his football career. It was a real eye opener because it is an opinion who wants him to leave for Ben's own good and his family's own good. It was really shocking to hear him say that a hardcore Steeler and Ben Roethlisberger fan. It was for the betterment of Ben and his own life rather than him focusing on playing football for the rest of his life. Since Ben has focused on football for half of his life he can focus on the other half of his life without football.
In conclusion, Ben is in fact a great quarterback and him moving on is incredible. Many people might not want him to move on and want him to stay longer. Many others think that Ben has done a great job doing his best in the NFL playing for the Steelers. The Steelers are lucky to have him for one more season because he will be moving on soon with his life.
Many other famous quarterbacks may retire in the years to come which will break a lot of people and teams. Big Ben will retire whether we like it or not. It is inevitable for him to move on and we should too.
View Comments (11)