The Life and Legacy of Betty White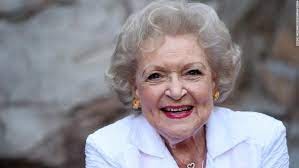 To say that Betty White is an icon would be an understatement. White was a staple in Hollywood having a career spanning 82 years and worked in radio, television, and film. In fact she is such a big deal that she is often referred to as "the first lady of television" and has her own star on The Hollywood Walk of Fame. Unfortunately White died at 99 years old on December 31, 2021 which was just a little two weeks before her 100 birthday, January 17, 2022. Although Betty White may be gone her impact and legacy will live on.
On January 17, 1922 Betty White was born in Oak Park, Illinois and a little over a year later her family moved to Alhambra, California. A few years later, during the Great Depression, her family moved to Los Angeles. Like most families in the Great Depression, White's family didn't have sizable income which led to her father making crystal radios, selling and exchanging them for money and other goods, even sometimes bringing home dogs. At a young age White wanted to be a forest ranger, having been interested in wildlife. However, at the time women could not be forest rangers, so she set her sights on writing instead. Her interest in writing led her to write and lead in a graduation play in elementary school. This led her to turn her sights towards acting.
Immediately after high school White was busy. White found work in modeling and even found her first professional acting job at a local theater not long after graduating. However, only two years after graduating from high school, the United States entered WW2 in 1941. This led to White volunteering for the American Women's Voluntary Services. She did many such tasks as driving military supplies and participating in events for troops before they were deployed. White once said about wartime, "It was a strange time and out of balance with everything."
After the war White started to look for work with different movie studios, however she was turned away as she was seen as "not photogenic". Because of this, White turned to radio to look for work. White's first work in radio was small. She read commercials, played very small parts, and even did background crowd noises. White was determined however, and would do things like singing on a show for no pay. She appeared on shows such as Blondie, This is your FBI, etc. From her hard work White was offered her own radio show entitled The Betty White Show. In 1949 White began co-hosting Hollywood on Television with Al Jarvis. Upon Jarvis's departure she began hosting the show by herself in 1952.
In 1951 White was nominated for her first Emmy for "Best Actress" on television however, this nomination was peculiar as she was not nominated for one role in particular rather her whole body of works up till this point. In 1952 White co-founded Bandy productions. The company and White's partners began to create T.V. shows based on characters from Hollywood on Television. The creation of the show Life with Elizabeth, where White played the title character, came from this. White won a Los-Angeles Emmy award in 1952.
From 1952 to 1954 White hosted her own show entitled The Betty White Show. White was given creative control over the show and hired a female director. White had her show feature an African American performer by the name of Arthur Duncan in her show in a first for American variety television. This caused quite the controversy especially in the South where Jim Crow laws were still in effect. When asked to remove Duncan from the show or face boycott White responded with, "I'm sorry. Live with it." and proceeded to give Duncan more screen time. Due to this controversy which led to lowering viewership, the show was canceled. Although the show was later briefly revived in order for White to fulfill a contract with ABC.
In the 60's White became a major face on both talk shows and game shows. She made numerous appearances on many different classic American game shows such as Password, What's My Line?, To Tell the Truth, etc. White even went on to marry the host of Password, Allen Ludden. Through this time she also appeared on many famous talk shows such as The Tonight Show and many others. White became the first woman to win an Emmy for Outstanding Game Show Host in 1983 for hosting Just Men! Due to this and the amount of work she did in game shows, she earned herself the nickname "the first lady of game shows".
In the 70's White began starring in The Mary Tyler Moore Show as Sue Ann Nivens in the fourth season of the show and became a series regular starting in season five. While the role is an iconic part of White's career she was not the biggest fan of the role, describing her as "icky sweet". White felt that she was the picture perfect example' of feminine passivity. White did attribute that this was because in a way that was White's own persona in front of the screen. With that being said however, White won two Emmys two years in a row for the role in 1975 and 1976. Following this White was once again offered to do The Betty White Show although this iteration of the show only lasted one season.
In 1985 the biggest and most legendary role of White's career came along. White began playing Rose Nylund in the celebrated sitcom The Golden Girls. The show was extremely successful in its run from 1985 to 1992 and to this day is celebrated and considered a classic. The show is about 4 older women sharing a home in Miami during their "golden years". During the run of the show White was nominated for Outstanding actress in a comedy series at the Emmy Awards every year of the show's run. White won the award for her work in the first season of the show.
After The Golden Girls, White went on to make many guest appearances in many shows. One of these guest appearances was on The John Larroquette Show which earned her an Emmy Award for Outstanding Guest Actress in a Comedy Series. Throughout the years she made several more guest appearances in soap operas, game shows, movies, and commercials.
In 2010 White career experienced a resurgence due to a Facebook campaign entitled "Betty White to Host SNL (Please)". With the campaign nearing 500,000 members it was announced that White would host SNL, making her the oldest person ever to do so at age 88. This earned her an Emmy award for Outstanding Guest Actress in a Comedy Series. Following this, White would play Elka Ostrovsky in the sitcom Hot in Cleveland. The show ran for six seasons and in 2011 earned White a nomination for Outstanding Supporting Actress in a Comedy Series.
White went on to appear in many more programs throughout her time. She had many documentaries and birthday celebrations televised in her honor. In 2018 a documentary called Betty White: First Lady of Television aired. The documentary was filmed over 10 years and included tons of footage from friends and colleagues.
In December 2021 it was announced that a docu style film called Betty White: A Celebration would be coming to the theater on her 100th birthday which would have been on January 17, 2022. People magazine was also planning a special edition on White for her 100th birthday which was released days before her death. Upon White's death it was announced that the film would still be coming out as planned.
Among Whites many achievements in the entertainment industry White was also an advocate for animal welfare, LGBTQ rights, and racial equality. For animal welfare White worked with many organizations to help animals. In 2009 White was the President emerita of the Morris Animal Foundation, after being a trustee since 1971. Those are just a few of the things that she did for animal welfare. White was a long time supporter of LGBTQ rights and can even be quoted as saying, "If a couple has been together all that time – and there are gay relationships that are more solid than some heterosexual ones – I think it's fine if they want to get married. I don't know how people can get so anti-something. Mind your own business, take care of your affairs, and don't worry about other people so much." Her work of opposing racial injustice can be best seen with the story of Arthur Duncan (as told earlier in the article).
Betty White is a cultural phenomenon that will live on in the hearts and minds of millions. She has impacted so many people, not just with her acting, but also her advocacy for what she thought was right. Her legacy is secure and her memory will live on for generations. Rest in Power Betty White 1922-2021.
View Comments (1)