Ukraine: How did things get where they are?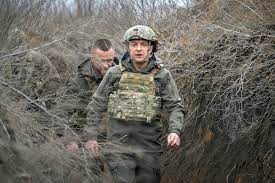 Russian Forces Bomb A
Maternity and Children's Hospital
The latest updates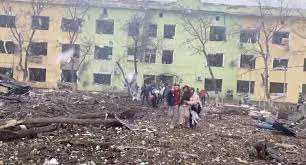 Russian forces bombed a maternity and children's hospital earlier Wednesday, March 9, 2022. Russia even agreed to a 12-hour pause in hostilities to allow for refugees to evacuate from towns and cities.
The attack came despite Russia's agreement and injured at least 17 people, including children, mothers and staff. President Volodymyr Zelensky described the attack as an "atrocity" and "proof of a genocide." Mariupol city council accused Russia of dropping several bombs on the hospital from the air.
As a result, Zelensky called for the NATO military to declare a no-fly zone over Ukraine. "Close the sky right now! Stop the killings! You have power but you seem to be losing humanity," he said.
"Direct strike of Russian troops at the maternity hospital," Zelensky said, "People, children are under the wreckage. Atrocity! How much longer will the world be an accomplice ingnoring terror?"
Zelensky called the attack "final proof, proof of a genocide of Ukrainians taking place."
What events led up to this point?
How did we get here?
The armed conflict first erupted in early 2014 when Ukraine claimed certain areas as theirs and Russia simply disagreed. This quickly turned to a long stalemate, with shelling (the act of bombing a place with artillery shells) and skirmishes occuring along the front line that parts Russian and Ukrainian controlled border regions in the east. Violence in eastern Ukraine between Russian separatist forces and the Ukrainian military by conservative estimates killed more than 10,300 people and injured nearly 24,000 since April 2014.
Ukraine has been the target of many cyberattacks since the conflict started in 2014. In December 2015, more than 225,000 civilians lost power across Ukraine in an attack, and in December 2016 parts of Kyiv had another power blackout following a similar attack toward a Ukrainian utility company.
In June 2017, government and business computer systems were hit by the NotPetya cyberattack. This attack spread to computer systems worldwide causing billions of dollars in damages.
In October 2021, Russia began moving their troops and military equipment near its border with Ukraine, reigniting concerns over a possible invasion. Commercial satellite imagery and publicly released intelligence from November and December showed armor, missiles and other heavy weaponry moving toward Ukraine with no official explanation.
By December, more than 100,000 Russian soldiers were gathered near the Russia-Ukraine border and U.S. intelligence officials warned that Russia may be planning to invade early in 2022. Russia issued a set of demands calling for the United States and the North Atlantic Treaty Organization (NATO) to cease any military activity in Europe and Asia, nor further NATO expansion toward Russia, and to prevent Ukraine from joining NATO.
The U.S. and other NATO allies rejected these demands and warned Russia they would impose severe economic sanctions if Russia invaded Ukraine. The U.S. sent military assistance to Ukraine, including ammunition, small arms and other defensive weaponry.
On February 24, 2022, Putin announced the beginning of a full-scale land, sea and air invasion of Ukraine targeting military assets and cities across the country. United States President Joe Biden declared this attack "unprovoked and unjustified" and has since issued severe sanctions alongside European allies targeting four of Russia's largest banks, its oil and gas industry and U.S. technology exports to the country. The United Nations and other countries continue to condemn Russian actions and vow to respond.
Sources:
https://www.cnn.com/europe/live-news/ukraine-russia-putin-news-03-09-22/index.html
https://www.cnn.com/2022/03/09/europe/russia-invasion-ukraine-evacuations-03-09-intl/index.html
https://www.cfr.org/global-conflict-tracker/conflict/conflict-ukraine
https://www.thedailybeast.com/russia-has-bombed-a-maternity-hospital-in-mariupol-ukraine-officials-say
https://time.com/5954068/zelensky-ukraine-russia-standoff/
https://nypost.com/2021/12/06/satellite-photos-show-russian-forces-gathering-on-ukraine-border/
Leave a Comment