Ballet West Academy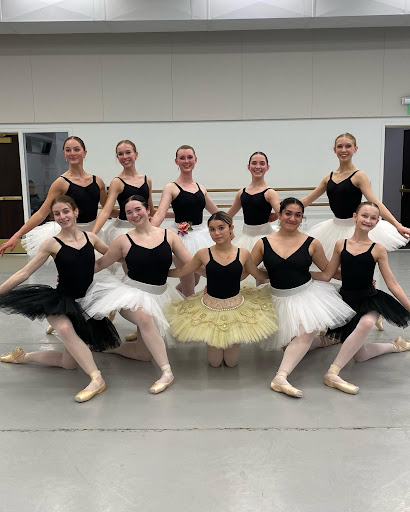 Ballet West is the premiere ballet company in Utah but what people may not realize is that as well as having their company they have an academy where they train the next generation of dancers. Aspiring dancers from all over the country come to train at this prestigious school in order to help further them in their training and career. Ballet West Academy spans across three campuses in Utah, these locations incluse Salt Lake City, Thanksgiving Point, and Park City. I have had the pleasure of training at Ballet West Academy Thanksgiving Point from 2016-2021. The experiences and things I learned there will be with me forever. However, this year I had the opportunity to begin training at the Salt Lake City location and have loved my time there.
Going into this year at a new location I did not know what to expect. I went into it wanting to learn and grow but not exactly knowing how everything would play out. But this year has been one of the best of my life and it is very much in part to the faculty, classmates, and academy as a whole.
Each member of the faculty was so nurturing and pushed us in order to watch us grow. The results I have seen in my training this year have been incredible. Each teacher pays attention to every student and makes sure they are being pushed to reach their full potential. They want you to grow and succeed and truly take pride in their work. They make the environment so fulfilling and rewarding. Each day both the teachers and students continue to strive to do more in order to become the best we can be.
An important part of working to do more is that you have a safe and fun environment to grow in and the academy really provided that. All of the students are so encouraging of each other. We are all pushing for the same goals and we all push and inspire each other. Ballet is not for the faint of heart but within the academy we know that no matter if we stumble we can get back up and have everyone behind us rooting for us. All of the students give it their all each day and that in turn motivates the others. While we are all striving for impossible perfection we have others right along with us doing the same. It is a comradery that isn't born out of having to work together like a typical sports team but one of understanding and never settling which is the nature of ballet.
Altogether this year at Ballet West Academy was everything I wanted it to be and more. I was scared going into it but I am so happy with where I am. Both my ballet training and myself as a person have grown so much in this past year. Ballet West Academy is truly a one of a kind place where you are encouraged and given all the opportunities you need to grow and be the best dancer and person you can be.
View Comments (1)