Choirs pay tribute to Shakespeare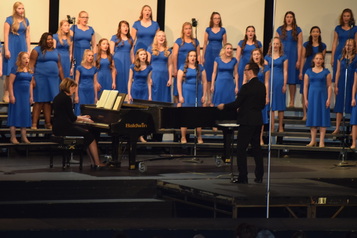 By Kasey Greene
10/25/2016
On October 12, all of Mountain View's choir group performed a voiceful experience that honor the great William Shakespeare and soothed the audience in the auditorium.
Mr. Taylor came out with the Chamber Choir and opened up with the national anthem to kick off the concert.
After that, the Man Choir stepped up and sung Now is the Month of Maying by Thomas Morley. They also sang Take, O Take those Lips Away by Hughes and Loose.
The Symphonic Voices came after singing the beautiful piece of Sigh No More Ladies by Ruth Morris Gray and All Ye Who Music Love by Baldassare Donato.
Once they were done, the Concert Choir came out and sang Sing We and Chant It by Thomas Morley, Take, O Take Those Lips Away from Three Madrigals by Emma Lou Diemer and Come Away, Death by Roger Quilter.
Con Brio then took the stage and sung O Mistress Mine from Three Madrigals by Emma Lou Diemer, What If I Never Speed? by John Dowland and Ban, Ban, Caliban by Dan Forrest.
After that, the Chamber Choir came back out and sang Je Ne Fus Jamais Se Aise by Pierre Certon, My Bonnie Lass She Smileth by Thomas Morley, and It Was a Lover and His Lass by John Rutter.
For their closing, the A Cappella comes out and sang It Was a Lover and His Lass by Matthew Harris, O la, o che buon eccho by Orlando di Lasso and If Music Be The Food of Love by David C. Dickau.
The choirs wanted the audience to feel and relax for each of these soothing songs. And many would agree that they did accomplish their goal.
Leave a Comment