UHSFF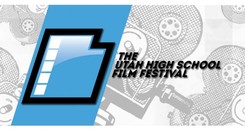 By: Kyle Hansen
The Utah High School Film Festival competition took place April 22. The day started off with an hour long introduction and presentation with filmmaker Garrett Batty, who made films such as Scout Camp, Freetown and The Saratov Approach. Workshops followed for foley, jimmy jib, After Effects/Premiere, DIY film gear, storytelling, etc. There's something for every student interested in the media world at the festival, bringing professionalism to the high school arena.
The Utah High School Film Festival started twenty years ago. Its mission is to be a resource for students to showcase, network and receive important critiques for their work. The Film and Broadcast Coalition is a collaboration of film and broadcast that supports the UHSFF.
Videos were submitted in early April. By the time students made it to Salt Lake Community College, the judging had and went and, at the end of the day, Mountain View placed third in avant garde category.
Leave a Comment