"Cain't say no" to Oklahoma!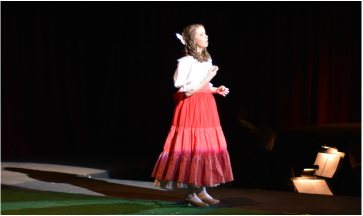 By: Mabel Wheeler
Mountain View High School's students uphold a strong theater tradition with Rodgers and Hammerstein's Oklahoma! The excitement and drama of the Oklahoma frontier were brought to life at Mountain View High School this past weekend through the iconic Rodgers and Hammerstein musical.
Mountain View's Oklahoma! opened on November 19th and ran for four nights. Auditions were in mid-September and rehearsals began two weeks later. "Every day we would have dance rehearsal for two hours, blocking rehearsal for an hour, and then vocal rehearsal for half an hour . . . it's intense. Like three to four hours every night," said Emma Evans, a junior who played Ado Annie in the production. Every year, Mountain View puts on two big musicals–one in the fall and one in the spring, that call upon the talents of the entire performing arts department. The musicals even feature a live pit orchestra. "The musicals show off people that are in dance, people that are in ballroom, people that are in drama, our band, our orchestra, all of our 'techies' . . . it's a whole group effort," said Evans. "Everyone wants to be a part of it," added Michael Cozzens, a junior who plays deputy Cord Elam.
In addition to two musicals, every year Mountain View puts on a classic play, a reader's theater, two non-musical plays, and one act plays produced by senior students. A support system of teachers and parents makes it possible for Mountain View to put on so many shows. "I've been in other high school plays which were not as good, and it's usually because teachers are not willing to help as much–usually one, maybe two people. But in this play, we have six teachers totally invested," said Cozzens.
Mr. Nathan Criman, the head of Mountain View's drama department, is one of those "totally invested" teachers. "I've been going full tilt here for over 20 years," he said. "Technically, I could be teaching the grandchildren of some of my very first students!" Mr. Criman is a firm believer in teaching high schoolers to work hard. "I train my students to be in charge . . . I teach them the correct principles, and then I let them govern themselves, and I trust them. We empower the students to be responsible," he said. "They understand that hard work requires dedication and focus." Mr. Criman is also proud of the unity and camaraderie exhibited by the school's drama department. "At Mountain View, we truly believe that we are one big family," he said. He hopes to offer everyone at the school an opportunity to belong. "They belong on stage, backstage, or in the audience, and I want them to feel comfortable," he said.
This welcoming attitude is part of why so many students participate in theater at Mountain View. Grant Stowell, a junior who played Sam in Oklahoma!, said, "The best part about being in a play at Mountain View is the people you get to know." The drama department not only benefits the students of Mountain View, but gives back to the community. The cast and crew of Oklahoma! even put on a weekday matinee for elementary school children–a tradition for musicals at Mountain View. "It's a really good experience for younger kids to be exposed to theater," commented Evans, although she laughed upon recalling that one young audience member complained, "No one told me this was going to be a kissing show!"
​Preparation for the next show began as soon as Oklahoma! ended. "We're always looking forward," said Mr. Criman. "The performing arts department at Mountain View is leading the way in many things . . . We give people hope. I would love to see that continue."
Leave a Comment