Why more people should learn American Sign Language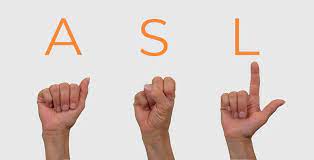 Why should American Sign Language (ASL) be the next language to learn? ASL is arguably the most important language out there. ASL is necessary to know and understand, and here are some reasons. People who sign and or deaf people should be able to communicate with others. It's good for expressing how you feel, and it's a beautiful language. You don't have to speak/pronounce things. We should be more involved/aware of the deaf and hard of hearing community. I can list on and on and on, but I won't. That would take too much time…
Imagine being in a world where there are people all around you, and you can't even communicate with most of them. You don't speak their language, and they are too impatient to slow down and try to communicate with you. I've seen and experienced that before, and it's definitely not fun. I know I'm not the only one who has experienced it. If you have experienced it, then you know how it feels. It makes you feel lonely, frustrated, and many other feelings. Last year, in my ASL class, I had to be deaf for a day for the end-of-term project.
I would have to wear earplugs and not speak for 24 hours. I wanted to make it a bit of a challenge, so I went to school during it. I wrote a sign to let everyone know that I couldn't talk or hear. As soon as I showed the sign to someone, I noticed that they would give up on talking to me that day. It definitely was an adjustment. I wasn't used to not hearing anyone. I couldn't even hear the teachers talking. That might sound great at first, but it was way less great after being handed an assignment that I didn't hear. I definitely wish that more people knew sign language or made an effort to learn it. Once, I was at a fast-food restaurant with my siblings; the customers in front of me were deaf. They were trying to order their food, and the person taking their order was getting really impatient with them. They would point at the menu, try to say some words, and sign to the guy taking their order. He said that he couldn't help them so he left them there. The two customers ended up leaving without getting food. I didn't know sign language at the time, so I couldn't help them. I felt helpless, and after that, I knew that one day I would learn ASL and help others with it.
Another reason to learn ASL (If the first reason wasn't good enough for you) is that it's a great way to express yourself. Dominique Lozano's article "Self Expression" talks about how people express themselves. The way you express yourself makes you who you are. Sign language is a really expressive language. I love ASL. I love signing because I can show my emotions through my body. I feel way more connected and in tune with my feelings when I sign. In my ASL class, I have this term project that I'm doing. I'm making an ASL music video. The song my partner and I chose is "Waving Through a Window" from Dear Evan Hansen Broadway Musical. The lyrics come alive when I sign them. I can have the character Evan Hansen come alive. The emotion truly flows through the words I'm signing.
Do you know what else I love about ASL? I LOVE how you don't have to speak. I'm definitely more on the introverted side, and I always struggle with talking to people. ASL has been great in helping me with my social anxiety. I don't know why, but it's way less scary to use sign language than to speak. Whenever I would try to learn a new language, I would always hate the speaking/pronouncing words portion of learning it. With ASL, speaking isn't needed. That's probably one of my favorite things about sign language.
Have I convinced you that ASL is the best language yet? Yes? No? Well, here is one more reason why you should learn it. It is essential to be involved and aware of the deaf and hard of hearing community. We must spread deaf awareness to bridge the gap between hearing and deaf people. We shouldn't let a language barrier get in the way. There are so many great people out there that you might miss out on. Even if you learn a couple words, or at the very least learn the alphabet, that would make a difference. It may not seem like a big deal, but it really is.
When I was doing the deaf for a day project, I had that sign saying that I couldn't hear and speak. When I got on the bus to school, I sat down next to this girl Olivia like I usually did. I showed her the sign, and then she started fingerspelling to me out of nowhere! I was caught off guard because I wasn't expecting that at all. It was incredible how she tried her best to communicate with me! It was probably the highlight of my day. Now, that was me, and I'm not even deaf. I did that for one day. That meant a lot to me. I can't imagine what it might mean to someone who deals with this every day. This shows that learning something small like the alphabet can make a big difference in someone's day. That's just my experience. There are a lot of different kinds of stories out there. Learning ASL is so important, and doing this will bring us a few steps closer to Unity. With Unity, there is a great strength. ASL is a beautiful language, and I'm so glad that I have the opportunity to learn it.
View Comments (2)