Teacher Spotlight: Ms. Brown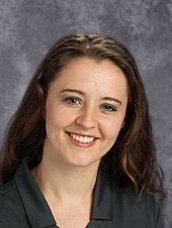 Ms. Brown has been teaching for 5 years. She teaches regular English 10, 11 and Honors 11.
Not many people can claim to be a National MVP Clogger. Ms. Brown is one of those select people who enjoy the interesting dance style. If that's not impressive enough, she earned her bachelor's degree in 3 years, and her masters in 1. When I mentioned a question about any injuries she has sustained, she replied, "I had two of my fingertips cut off in a door".
Ms. Brown had some advice for Mountain View students. "Work hard, and enjoy life. You need a little bit of both." In her free time she says she enjoys "spending a lot of time with my fiance —I am getting married at the end of the month. I read non-fiction books. I teach clogging, and I spend time with my family.¨
When asked what her favorite part of teaching at MVHS is, she said, "I like the culture at MV. The students for the most part are nice to each other. It's a good atmosphere. I also love it when a kid thinks there's no possible way to learn a skill, then to see the look on their face when they finally get it."
Leave a Comment