Shakespeare Competition
Once every year, during the first few days of October, there's a competition in Cedar City for actors and dancers. Our Performing Arts program spends the entire weekend away from home to compete for the best Shakespeare interpretation. Both our dance and theatre programs choose a famous Shakespeare play to perform in front of a panel of three judges. The event offers exciting opportunities for all those who attend.
The Shakespeare Festival is an amazing possibility for an aspiring performer. Allowing for scholarship opportunities for those who rank high enough, it can even look good on someone's resume. Just ask one of the students participating and you can see both the excitement, as well as nerves pouring from them. Weeks of practice are put into the short performance. The motivation to perfect every part of their performance is easy to read from all participants, even the directors. The motivation to win is even more evident.
The theatre department only brings a single scene to the festival. However, this does not mean that there is less effort put into the production. Weeks upon weeks can be put into the blocking, lines, and even the time constraints. The rules for the competition state that the scene must be under ten minutes and above six. Performing Act II Scene VI through Act III Scene V, this year's aspiring thespians are heading to Cedar City to perform their best work. While the choice of Romeo and Juilet was not immediately hit with resounding excitement, the actors slowly began to warm up to it and enjoy it. Aiden, the actor for Tybalt, put it this way, "To be honest I was like 'woah Romeo and Juilet's always the top one. Like everyone picks Romeo and Juilet.' and then I was like 'I've never tried Romeo and Juilet so I'll try out' So yeah I did." While the play may feel overdone, the new spin tries to give the performance new life. One of the attempts of revitalization is the new theme.
The twenties theme chosen by Mountain Views' drama teacher, Ms. Tarra Lynn Tanner, is sure to impress the judges. "I just thought it fit really well with this style, and I love the idea of like a jazz singer singing the chorus and like the women in flapper dresses and you know the dads are kinda like mob bosses, gangsters. I just thought it would like be beautiful."
The costuming department is especially thrilled about this choice. One of the costume directors, Amber Westover, is excited to be trying something new. "With Romeo and Juliet it's always like the same basic stuff, you know. Cause there's like the Leonardo Di Caprio version and then like the original one that people do, so it's like I like this cause kinda different." The theme really allows them to follow through with their favorite parts of this job. "I'm in love with history and fashion and fashion history and all of that, so I was really excited to take up the role of twenties because I feel like it's not represented well enough in media. Like when people think of twenties they only think of flappers and suits, so I'm really excited to play with the characters and how that's portrayed through costumes and props." Lydia Curtis, another costume director, expressed. A costuming director can really make a play come to life, not just for the audience but for the other actors and themselves. "When I'm giving them props like, you know, a fur coat or umbrellas and them being like, so excited about it. Like I'm not realizing how much it really adds to a performance and how much an actor, when they get a prop they're so excited about. Or like seeing other people get props and like 'what am I gonna get? What am I gonna get?' I kinda feel like Santa Claus in that way."
After not placing all too well last year with A Midsummer Night's Dream many of the previous actors were disappointed with the performance. Ethan Poppleton, returning to play Mercutio this year, shared his thoughts on that play. "Last year it could be better. We weren't able to work with as much time but we did the best we could." Last year's performance is now driving the actors to one up themselves this time, deeply hoping that this year will be the one that they win. "This year we got a little more umph to our things. We got some more emotional thing and it's more of a storyline that everybody can understand."
Although there is a presence of previous performers, newer actors are the predominant force joining the production this year. New actors mean new environments that can make a person nervous. "There's so many things I don't know because I don't know the stage, I don't know the people." Walker Alldredge, playing Friar Lawerence, shared about his new experience. Even Romeo himself is played by an actor new to our drama department. When asked how he was feeling about the main role, Jaxon Bunker said, "Well to be honest, I was kinda frightened at first because I was like 'oh no I'm going to be a main character, that's a lot of pressure.' but then as time went on I was like 'ok I like this.' So, first I was fearful but now I'm glad I got the part." The excitement is bubbling over in the drama room as our actors get ready to take on the world with this year's presentation of Romeo and Juliet.
After last year's adaptation of Titus Andronicus earned fifth place, our dance department was feeling pretty good. Pride filled the previous dancers as they did so well on something so new for them. Hopes are high with this new routine based around the play As You Like It. Many of the dancers are excited for the upcoming dance. Doing something that many of them are a bit more comfortable with, the chances feel higher than ever to reach the top three. Feeling more comfortable doesn't exactly mean they are feeling perfect just quite yet. Each morning they pour hours of hard work, before and during school hours, to try and perfect the current dance routine.
The hardest part for the dancers was during the developmental stages of their routine. Humming a song while figuring out how they would move to portray the story in the best way possible. Showing a story purely through movement can be a difficult endeavor. No word is spoken by the artists, so every little part of the play must be portrayed through the movement, expressions, and music choices. Every conflict, triumph, loss, relationship and so on is purely shown by the way the artists dance. Every move is carefully choreographed to show just that.
The dance, titled "Twas/Tis", primarily focuses on the character development of Oliver. Focusing on the antagonist of the story as he navigates the differences and the harms in the man he was while he transitions into the person that he is becoming. Our dancers are embodying that internal and external conflict as well as acceptance through the movements. The main inspiration for the piece was a single quote. "Twas I, but 'tis not I. I do not shame To tell you what I was, since my conversion So sweetly tastes, being the thing I am." Oliver's one line had set the entire dance into motion, and our performers are here to do it justice.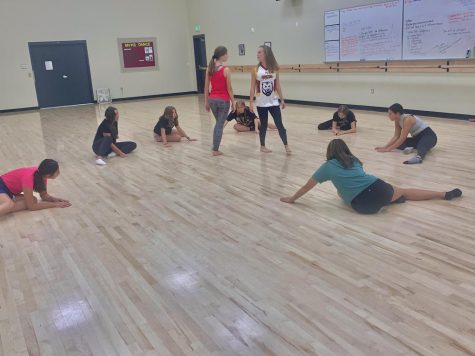 The Shakespeare Festival competition has got the arts department buzzing with excitement. Ready for the day of October 1, 2021, they practice as much as possible to perfect every little detail. The prospect of hitting the "podium" is in all of their minds as the date creeps ever closer. Scheduled for the first day, the nerves begin to set in for some particpantance with the pressure of expectations of success getting bigger. As we get closer to the actual event make sure to show support to your fellow Bruins for their upcoming performances.
Leave a Comment