Outfits of MVHS: Eryn Hales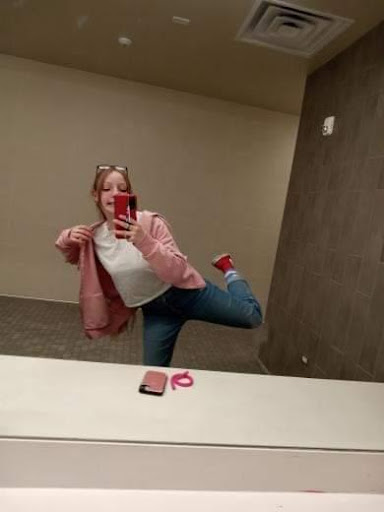 Eryn Hales, a Junior with a bright and bubbly soul inside and out. She's a walking drop of sunshine and summer fun. As a friend to everyone and admirably free-spirited, she spends her time doing theater and XC.
The outfits she wears reflect her youthful enchantments through trendy aesthetics like kid-core, fairy-core and cottagecore.
Kid-core is a style reflective of the vibrant and lively nostalgia from a childhood in the late 90's and early 2000's. Items like sneakers, playful accessories and flamboyant shirts and pants. Primary colors and bold patterns are a staple in this aesthetic.
The term became popular specifically during June of 2020, when platforms like TikTok and Pinterest solidified the style. Although kid-core is alternative, there is no sub-culture behind it. There is no music fan-base which is usually the case for alt styles. However, this allows for some flexibility in how the style is presented. Kid-core is based on nostalgia, this is very broad and has a lot of wiggle room. Influencers from Jojo-Siwa to Oliva Rodrigo have very distinct looks, but they both fall under the kid-core category.
"I would call my style very colorful and summery," Eryn says "I really like all the colors and jewelry."
The simple yet striking accessories are what makes the style stand out. It's modern and trendy yet the outfits are unique and easy to spot. Much like how main protagonists of TV shows are visually the centers of attention in crowded areas.
Her style does not fall into one simple category as it has been refined and adjusted to match her personality. She is fashionable yet true to herself, a very beautiful combination that creates the perfect wardrobe.
She truly radiates a rich happiness and confidence in every outfit she wears because she allows her personality to shine through.
Leave a Comment