Basketball Family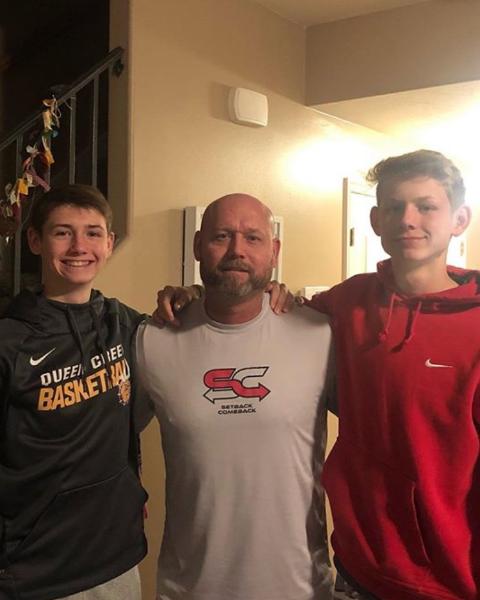 As November begins, so does the boys basketball season at Mountain View. The Bruins had a mediocre season last year, losing in the second round of the state playoffs. Outsiders might expect some of the same results from a team that has recently struggled, but many of the basketball coaches and players at Mountain View High School believe that this year, they will make a deep playoff run. They definitely have all the pieces including senior leadership, great coaching, teamwork, and a family-like unity. Mountain View especially checks the box when it comes to family unity. The varsity team has two brothers, Court and Carter Walker, and their dad, Jared Walker, is an assistant coach. These three all have key roles on the team and will play a huge part in the team's success this year.
One of the most important, but often overlooked positions on a basketball team is the coach. Great teams always have great coaches that push their players to be the best they can be on the court. Jared Walker is the varsity boys assistant coach. Coaching can sometimes be difficult when it involves your own kids. When asked how he handles coaching his two sons, Coach Walker stated, "I can be hard sometimes. I might be a little too hard on them, but I try my best to be a good dad and coach at the same time. They are good about not taking everything I say personally." It can definitely be a challenge coaching your own sons at such a high level, but Coach Walker and his boys have a great relationship and their family shares a love of basketball. Having so much family on one team can cause some problems if other players think that playing time is based on your last name. However, Coach Walker said, "The team is really close and players don't do a whole lot of bad mouthing each other. We have a common goal of winning and it brings us together." If the Bruins can work together and stay close as a team, the sky's the limit this season.
Court Walker is the senior point guard on the team and is the definition of a leader. He is always getting up extra shots after practice and gives it his all every time he steps on the floor. Court stressed the importance of being a good leader when he said, "I think a good leader is not only just guiding other people, but setting a good example for them. Actions speak louder than words." Court is the perfect example of a leader who not only talks the talk, but walks the walk. After a down year last year, Court has extremely lofty expectations for this upcoming season. When talking about the team's goals, Court said, "The team's goal is to win the state championship. We have spent a lot of time working in the gym and it would be a waste if our goal was to just make it to the playoffs." Setting a good goal can be half the battle and it looks like this team has all the pieces and focus to accomplish this goal.
Carter Walker, Court's younger brother, is a junior wing on the varsity team. When asked what it was like to play with his brother and dad, Carter stated, "It can sometimes be hard and we do argue a lot, but at the end of the day, I wouldn't have it any other way and it has definitely brought us closer together." Carter also said, "Having Court on the team has been great, He has taught me a lot and it has really helped me grow on and off the court." Regardless of how the season turns out, playing on a team together and helping each other grow will definitely be an unforgettable experience for both Court and Carter.
As you can see, family is a huge theme for the Mountain View boys team and their upcoming season. The three Walkers have all learned how to help each other be the best they can be on and off the court. Court has been a great mentor for Carter and Jared is pushing Court and Carter to be their best. Hopefully this familial comradery can rub off onto the other players and help the Bruins reach their championship goals.
Leave a Comment