Teacher Spotlight: Mr. Taylor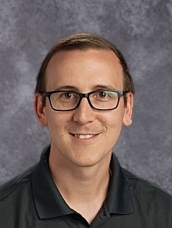 Music is a powerful thing, it guides people, and here at Mountain View we have a wonderful teacher who has dedicated his time to teaching our students the wonderful art of singing.
Mr. Taylor has been teaching choir at Mountain View High School for 8 years. He directs the choral department and helps all his students become better singers and make beautiful music. He lets music be something enjoyable, something where students can get a break from the stress of the rest of school.
In his free time he enjoys playing disc golf, photography, mountain biking, playing mandolin and guitar, woodworking, playing board games with his kids, rock climbing, taking adventures, flying his drone, and singing of course. But his favorite part about teaching school is, "You guys, high school students— I like teenagers— I like this age group, we have a good time."
I asked some of his students their favorite thing about Mr. Taylor. Britney Williams said, "My favorite thing about Mr. Taylor is that he is always pushing his students to become better. I also love that you can tell he cares about his students!" Christina Olson also replied saying: "Hmm, that's hard. Probably that he's friends with the students, respecting them and expecting them to do their best." He is an amazing musician and teacher just wanting us to be our best self we can be.
After being asked what advice he would give students— either in general or taking his class— he said, "Advice for students coming into my class would be— brace yourself, no— just be ready to let go of your own self in order to connect with those around you. I feel like joining choir is like joining a community, and being willing to be like— it's not just about me, it's about the group, it's about everybody, it's about making this glorious music."
The student body of Mountain View would like to thank Mr. Taylor for being a spectacular choir director, and giving many students a shelter from the storm where they can feel peace. We are grateful and lucky to have you as a teacher.
Leave a Comment