DnD Club
Here at Mountain View High School is a D&D club! Otherwise known as Dungeons and Dragons, a game of quests, journeys, and adventures. They meet on Wednesdays from 2:15 after school to 4:00 pm at our school's library. They are also still allowing people to join so if you want to join come after school on any Tuesdays and talk to Miss Hopkins and they could help you set up though you might need to wait depending on the campaign's.
Miss Hopkins, who is here when the D&D club is happening, says" It's very energetic, people are excited to do their campaigns.". For those who don't know what campaigns are, they are simply a continuing storyline or set of adventures and they do these in different groups and once they all finish their campaigns they then switch up the groups. Miss Hopkins also says" In the library one of our loudest times is when DnD is going on, they are cheering each other, they are working together on the decisions in the game, and they are talking a lot." She also says, "It's entertaining to hear them laughing and having a good time and sometimes someone makes a choice which everyone laughs at." One last thing that Miss Hopkins also says' ' Everyone is very welcoming and it's a great place to come and socialize after school, as you need to learn communication skills, teamwork, and critical thinking to solve problems."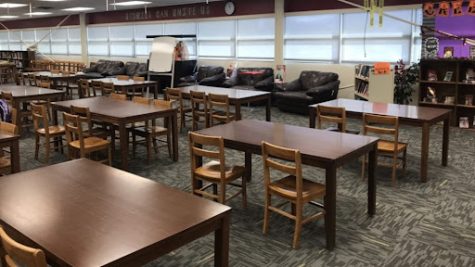 One of the DM's, also known as Dungeon Master's, named Joshua Esseltine says,
"It is awesome, honestly I'm a big fan of D&D!" He also says," It's been nothing but amazing, people have been super nice, kind, and very inclusive actually we had some people who were like hey we didn't sign up but could we still join and we said absolutely we would love you to join us" So they still would love more people to join them in their campaigns and have fun with everyone!
View Comments (5)