The Tour d'Choir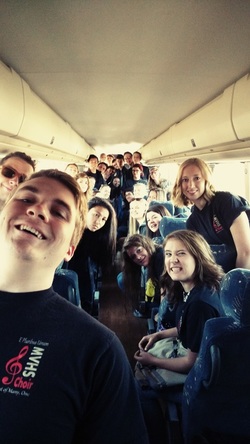 By Joseph Meacham and Grant Stowell
Vast masses of students were missing last week because Mountain View's Annual Choir tour began March 22nd at 3:00 when the musically talented Bruins departed for St. George.
​Not all of Mountain View's talented choirs got to go. Classes attending the tour with Mr.Taylor were A Capella, Chamber Choir, and Con Brio. With mass amounts of students (Approximately 160) going to St. George and Las Vegas, the tour planned was one to remember! Tour "parents" Mrs. Merrick & Mrs. Luque, chaperoning parents, and choir council members had great things planned. Including songs at two venues hosted by Tuacahn High school and the St. George tabernacle. Those are just the formal performances though, students also be sang songs in Zion National Park, and participated in a workshop at the University of Las Vegas. Aside from performances, there was other fun activities going on too. Like hiking around Zion National Park, and long bus rides that were basically parties. On top of that, MV Choirs had the Stratosphere reserved for a day! Even Mr. Taylor took part in the fun bungee jumping off the stratosphere. With so many teenagers in one place, you can bet people were looking forward to the delicious food that many restaurants are planning to cater for the hungry choir students. Restaurants ranging from Teriyaki barbecue to Olive Garden.
Some people think choir tour is about the place. St. George may not be as far away as Washington DC, (Last year's choir tour destination). However, what really matters is the people you are with and the unity that creating beautiful music together brings. There are many tours that this school provides, but Choir Tour certainly serves as one of the best.
Leave a Comment