Students council aims for enjoyable year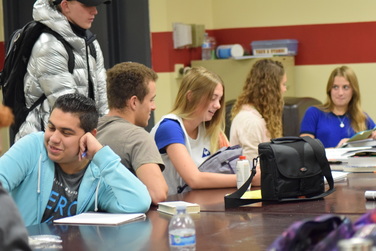 Student council members aim for a fun year for students, planning events like the notorious Homecoming dance, which took place on on the 17th; Senior Sunrise, which will take place this week; Hope Week, also this week; and the Monster Mash, that will happen in October.
The focus of student council, as of late, has mostly been on the Homecoming Dance and Senior Sunrise. Preparations for Homecoming included finding a DJ, decorating and much more.
"We have Homecoming hangover," said student council member Liam Elliot. It seemed to have payed off however; many of the students had positive thing to say about their homecoming experience.
Senior Sunrise, according to Darcy Atoa required a completely different set of preparations, including talking to parents, discussing with the administration and organizing the breakfast.
However, students seem excited for the upcoming event, "I'm super excited for Senior Sunrise. I can't wait," said Ben Hardman.
Because Homecoming just happened, and of hope week and Senior Sunrise that will happen this week, the Council members are not really focused on the Monster Mash at the moment.
"The dance itself is pretty simple," said Darcy. "What takes a long time is the spook Alley."
​
Student Council members work diligently every day; they start their day with the pledge of allegiance, than the members take all of A1 to prepare activities for students. The upcoming events this year are to be much anticipated.
Leave a Comment