Outfits of MVHS: Jaden Christensen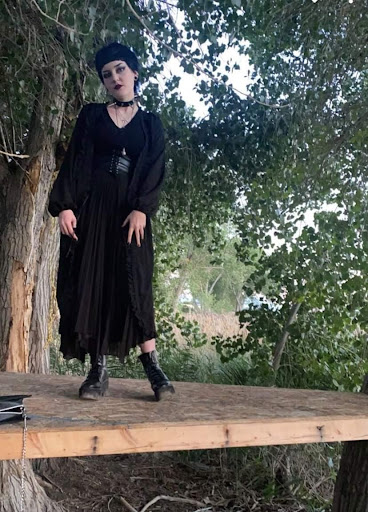 Jaden Christensen is a Senior at MVHS whose love for art ranges from drawing and watercolor painting to the devotion of hauntingly beautiful aesthetics.
"Gothic, emo, grunge, really anything. But definitely more gothic." is how they describe their style. Goth originally was a style of architecture and paintings that evolved into writing and fashion. The 20th century goth fashion that was popularized through mainstream-media came from the music and its artists like Siouxsie Sioux and the Banshees, The Cure, and Bauhaus.
When asked what inspires them, Jaden answered "Robert Smith from The Cure – The whole band really.".
Goth has served the people who embrace the enchantment of darkness and despair, and acts as a vessel to study the intimidation but necessity of death after life. Wearing gothic fashion is not a mask or a way to hide from pain and fear, it's a physical invitation that forces people to think about death and how it's intertwined with life.
"I feel like me! Very happy and confident. I feel like who I wanna be, if that makes sense.". Jaden's response to the age-old interrogation of alternative-styled people represents the universal comfort that fashion provides.
The style of goth requires dark and bold colors, striking silhouettes, and post WWII additives like black boots, fishnet stockings, and heavy eyeliner. "You can't be goth without the necklaces, corsets, belts, rings, bracelets, etc." Jaden remarks. Although there are some substyles of goth that find inspiration in Victorian England, aliens, and Rockabilly, the goth style remains uniquely horrifying to conservative and traditional people.
To be goth is to accept the reality of death, something that is taboo and frightening. To be young and to be goth is the most liberating thing a person can do. To accept death at a young age means accepting life, teenagers and young adults often make the mistake of "wasting" their "short" life or not realizing how long their actions will affect them.
If a young adult accepts death, they can appreciate life and find ways to celebrate the absurdity of human nature by defying those who don't let them live in the fullest way they want to.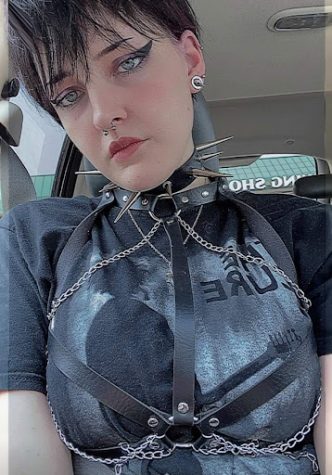 Leave a Comment