Bruins raise over $5000 to make a kid's wish come true
Mountain View High School surpassed its $5000 goal to help fulfill the wish of a young boy named Ivan to go to Disney World. Wish Week is one of Mountain View's most cherished traditions. Every year, Bruins work with the Make-a-Wish Foundation to raise money and give a special child with significant medical challenges a dream of the child's choice.
This year, Mountain View's Wish Week kid was Ivan. His favorite color is orange. He loves pancakes, hamburgers, and fries from McDonald's. He likes superheroes and wants to be a champion athlete.
Ivan was diagnosed with vasculitis when he was two and a half years old. The disorder resulted in inflammation that severely damaged his kidneys. He went through various treatments, including dialysis to try to help his kidneys function until he was able to receive an organ transplant. Unfortunately, after the first successful week with the new transplant, doctors discovered that the vasculitis had returned in his new kidney. As a result, doctors began trying a new treatment with him and it has gone well so far. He still receives treatments every couple of months. That is better than the multiple times a week that he was going to dialysis. His family is excited to be able to have some time together at Disney World without having to worry about hospitals and being in dialysis.
As always, Mountain View went all out to help their chosen kid. Student Council filled the halls with decorations of things Ivan loves. Spider-Man was hanging in the center of the school; the halls had colored glows; soccer balls and basketballs hung on the walls.
Each day of the week had a dressup theme to get people in the spirit. Monday was green and blue; Tuesday was red (for Spider-Man); Wednesday was jersey day; Thursday was class colors (for the assembly); and Friday was wear your Wish Week Shirt (sold to raise money for Ivan).
Various spirit nights were held to help raise funds. At these spirit nights, anyone could eat at a local restaurant and mention Mountain View so that a portion of the proceeds would go to Ivan. Monday was Menchie's; Tuesday was Culver's; Wednesday was Chubby's; and Thursday was Pizza Pie Cafe.
Two other after school activities were held during the week to continue raising money. On Monday, a movie night was held. Students could come see "Spider-Man: No Way Home" for free and buy snacks to help support Ivan. On Friday, there were fun activities that students could enter by buying a Wish Week shirt. Students played nine square in the air, did a bungee run, played spikeball and badminton, and dunked teachers and staff in the dunk tank. All of the shirts sold out!
On Thursday, the school gathered for the annual Wish Week Assembly. There were lots of activities based on Ivan's interests. Students played games; Ivan got to score a soccer goal with the soccer team; he was presented with an old Mountain View jersey; and there was a dance competition between the classes and staff.
Check out the dances here-
Sophomore dance- Wish Week 2023 Sophomore Dance
Junior dance- Wish Week 2023 Junior Dance
Senior dance- Wish Week 2023 Senior Dance
Teacher dance- Wish Week 2023 Teacher Dance
Ivan got to choose the winner of the dance-off, and he chose the sophomores!
To end the assembly, there was a Miracle Minute. Student council ran around collecting donations from the crowd. Mountain View raised $1000 during the Miracle Minute!
Throughout the week, a dollar war was held where the different classes could donate dollars to either raise their score or lower the score of another class. This year, the sophomores took the win.
A ton of kudos go out to student council and others who made such a special week happen. The Bruins met their lofty goal and will leave their print on the life of this special young man.
Here is Make-A-Wish Utah's report of how Ivan's trip went-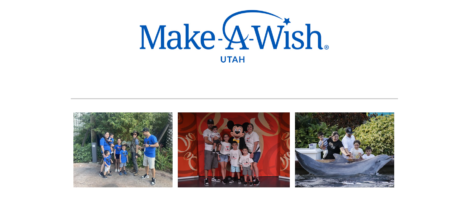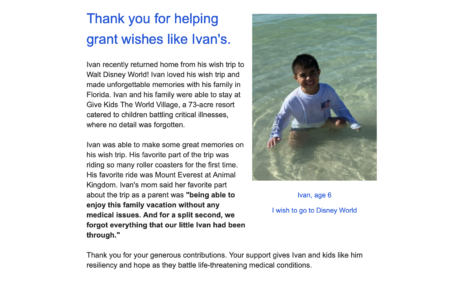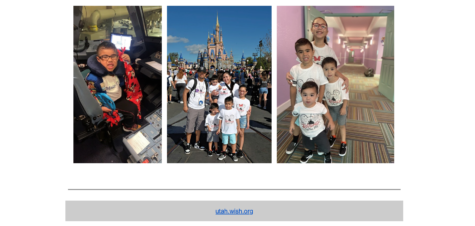 Learn more about the Make-a-Wish Foundation.
View Comments (2)