Teacher Spotlight: Parker Greenwell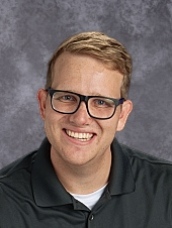 Taking a hands-on, lab heavy approach is hard to find nowadays, but we have a teacher right here at Mountain View that is great at it.
Mr. Greenwell has been teaching AP and regular physics for 2 years at Mountain View. He has his own hands-on approach and is dedicated to teaching, and making a "hard class that people are scared of fun."
In his free time, he loves to go hiking, play guitar, and play the board game Redneck Life. He will also occasionally do comedy shows down in Provo, because he "likes making people laugh." But in school, his favorite thing about teaching is "getting to know all the students" and "when you can get to the point where you can goof around and joke with them."
I asked some of his students what their favorite thing about Mr. Greenwell and their favorite lab or activity they did. Ashlee Buckner said, "He is just so fun to be around, and tries so hard to make class fun and exciting for the students. You can tell he cares a lot about his job and his students. My favorite activity was when we made hot air balloons out of tissue paper and launched them." Janean Crane also replied, saying: "He is really good at creating fun labs to help us engage with physics. My favorite thing we did was learn about rational energy by playing with a flying pig." Students have reported that his physics class was their favorite science course they've ever taken. He is so enthusiastic about what he is teaching which makes his students have a better time in his class and helps them understand the content more.
After being asked what advice he would give students— either in general or taking his class— he said, "Have fun with it. The biggest thing is that teachers don't assign work to be busy work— they assign it because it's going to help you succeed. So don't treat everything like it's a chore, they are on your side trying to help you pass the class and learn the content."
The students of Mountain View would like to thank Mr. Greenwell for all of his hard work that makes learning fun. You are beyond a great teacher and we are lucky to have you as one.
View Comments (1)