Costume Ideas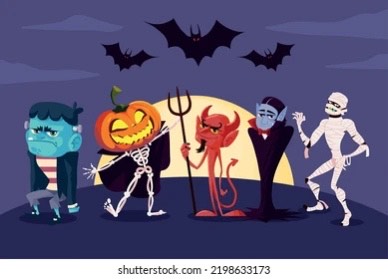 Halloween is just around the corner and a ton of people are looking for Halloween costumes or even just ideas. Whether you're dressing up alone, with your significant other, best friend, or even a big group of friends there's many options! So many great shows and movies came out this year which has brought countless more options to pick from. The new season of "Stranger Things", the new "Hocus Pocus", and so many others. There are also the favorite classic movies/shows that come back each year for Halloween costumes. For example, "Mean Girls", "Clueless", "It", "Harry Potter", "Star Wars", "The Justice League", "The Nightmare Before Christmas", "Fast and Furious", "Monsters Inc." and many others. Along with those, there are also so many iconic people that are very popular and fun to dress up as!
If you're looking to dress up alone this year there are a multitude of fun options to choose from. Even though many options aren't listed, here are some good ideas to maybe even just help get the ball rolling.
-Cruella de Vil
-Eddie Munson
-Britney Spears
-Paris Hilton
-hippie
-vampire
-witch
-Elvis Presley
-Wednesday Addams
-The Grabber (The Black Phone)
-Cher (Clueless)
-pirate
-Queen of Hearts
-Cupid
-ballerina
-cowboy
-life guard
-Bob Ross
-Maleficent
-Thanos
If you and your significant other are looking to dress up together, and be the cutest couple; there are many great options. There are obviously many more than what will be listed, but here are some super fun and cute options to give you some ideas.
-Lightning McQueen and Sally
-Barbie and Ken
-Romeo and Juliet
-Shrek and Fiona
-Tinkerbell and Peter Pan
-Gru and Lucy
-Red Riding Hood and The Wolf
-Jasmine and Aladdin
-Jack Skellington and Sally
-Mickey Mouse and Minnie Mouse
Dressing up with other people, especially your best friend, is so fun! If you and your best friend are trying to be that cute and iconic duo, there are many options out there for you guys.
-Lightning McQueen and Tow Mater
-Mike and Sully
-Kim Possible and Shego
-Tinkerbell and Vidia
-Gru and Vector
-angel and devil
-Shaggy and Scooby doo
Are you part of a trio friend group? If you guys are wanting to dress up together, this list is perfect for you! Trios can be the hardest and easiest thing to find costumes for.
-Sanderson Sisters (Hocus Pocus)
-Powerpuff Girls
-Hex Girls (Scooby Doo)
-Lightning McQueen and The King and Chick Hicks
-Rick and Morty and Pickle
-Regina George, Gretchen Wieners, and Karen Smith (Mean Girls)
For those of you who are in big friend groups, and you all want to dress up together, there are many fun options for you to choose from!
-Minions
-The Breakfast Club
-Top Gun
-Stranger Things
-Strawberry Shortcake
-Monster High
-Super Mario
-Addams Family
-Scooby Doo and Friends
-Toy Story
-Hotel Transylvania
Hopefully after this article you got more ideas about some possible Halloween costumes this year! Remember to have a safe, and fun time!
View Comments (3)