Volleyball Team Is Rolling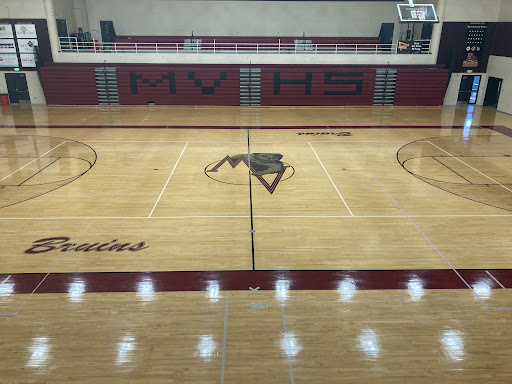 WIth many of the sports programs at Mountain View struggling, one team has stood out above the rest. The Bruin's volleyball team has been killing it as of late, boasting a 8-0 record with one of the toughest schedules in the state of Utah. In their most recent bout, they faced off against the current 5A state champion Timpview Thunderbirds at home. The Bruins were able to pull out a nail biting 3-2 victory over them, which puts them at 4-0 in region play and keeps them at the top of the Utah State Rankings. They are also currently ranked 22nd in the Nation! With all of the success happening and excitement of another possible return to the state championship game, I wanted to give you some of the reasons why I think they are playing at such a high level and why I think that they are poised to make a deep run in the playoffs this year.
Going to the games, one of the first things that you notice is the support that the team has for each other. Whether a good play is made, or a mistake costing them a point or a set, they always have each other's backs. This is very important and an often underlooked factor that is crucial to be a championship team. Another thing that you will see, hear, and feel is the roaring student section at every game. At the home games the house is always packed, and you would be lucky if anyone 2 or more seats away from you could hear anything you say. At the away games, the home crowds are usually outnumbered by the Bruin Crazies. A good crowd can help motivate the players and cause the other team to occasionally slip up. Possibly the most important factor, however, is the talent and experience that our team has. With 4 returning all-region players, including Region MVP Middle Attacker Mia Lee, this team is filled with a lot of talented players.
They are also very experienced players who have important experience in the playoffs. Many of the players on this team were on the team that played in the state championship game in 2020, and some were even on the team when the Bruins won the State Championship in 2019. It is almost essential on a good team to have experienced players who can keep their composure in big games.
After watching the Volleyball team in action, I can't help but be excited for the rest of this season. Because of the talent on this team, the experience, the chemistry, and the great student section, going to these games is a very enjoyable experience, and the sky is truly the limit for this team.
View Comments (2)