Frankenstein musical
At The Towne Hub in American Fork Oct 20-29 at 7:30 P.M and Oct 30th at 2 P.M. and Midnight was a musical about Frankenstein was performed.The story was based off Mary Shelley's novel, however the script and music was written by Sierra Tolman and Hayden Hall.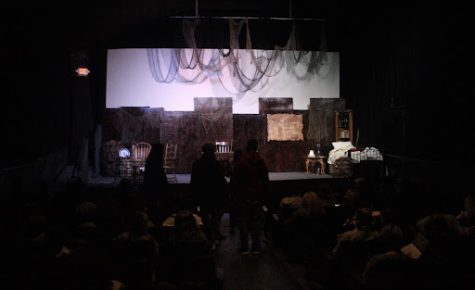 Sierra first started this musical by getting the idea from her 'favorite book character' and wrote the song "Someone Beside Me." The Creature sings this song when he is longing for a companion along with other songs she created.That's when Sierra then got the idea to continue writing it which then lead to writing the script. Sirra decided then to reach out to her friend Hayen and ask if he would be interested in writing a show together with her and he was on board. Starting from March of 2020 finishing the script in June of 2021was when they decided that they wanted to get it on their school stage for a halloween performance. The actor who was performing as Victor Frankenstein for them came and offered to put the show on with his new start up company called 'Utah Valley Artist' and they accepted.
One of Sierra's favorite parts of the musical is "when Henry and the Creature are talking and are arguing a bit because the Creature isn't really understanding Henry and talking about the concept of loneliness and how hard its to deal with it and Henry says "'loneliness isn't the absence of people it's the absence of love," Sierra said. "That line really stuck out to me just as a major theme of the show that this idea that everyone needs love and attachment and that just because you have people in your life doesn't always mean you have that". "It was a really hard process also, I think it's easy to gloss over the difficulties in such huge accomplishments. It's really cool to see everything come together but it was also a rough process," Sierra said. Over all with all of the hard work put together it came out very good and people got to go and watch the show.
Leave a Comment