Band and orchestra hold concert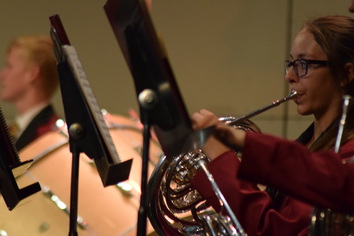 Mountain View band and orchestra students performed after school yesterday in their first official concert.
The concert started off with director John Bowman coming onto the stage and welcoming everyone. Then the music began.
The Symphonic Band started off the night playing Kentucky 1800 by Clare Grundman and continued on to preform Into The Storm by Robert W. Smith.
After the Symphonic band finished up their stage time, the Percussion Ensemble came on to play. They also performed two songs, Hexagon by John Fannin and Prelude, Siciliano and Rondo by Malcolm Arnold.
Following Percussion, the Wind Symphony took the stage. They played Brandenburg Concerto No. 3 composed by J.S. Bach and arranged by Merle Isaac. This was a special performance because there was an accompaniment of the harp, played by Hunter Reynolds.
"I can't remember the last time we got to have a harp on stage," said Bowman.
Bowman the proceeded to introduce the band new Orchestra assistant Tamara Haviland. She came onto the stage and seemed very grateful to be there saying, "I just want to take a minute to say thank you."
She then introduced the next song, Mock Morris composed by Percy Grainger and arranged by Sandra Dackow, and lead the orchestra in their last performance of the night.
Last, the Jazz Band entered the stage to perform.They took a moment to tune their instruments and then began playing Plunger Power by Doug Beach. Soloists during that song included Jaden Sigua, Jared Lemen, and Jeffrey Winters.
Then they played Check Your Swing also by Doug Beach, with soloists Brianna Winters, Mason Goodrich,and Paul Wynn.
Their last song was Hip to be Square with the arrangement by Paul Jennings. Jaden Sigua was the only soloist during that performance.
All together, the concert seemed to be a success. Parents walked away saying things such as, "I really enjoyed it" and "I thought they did great."
​Dates for upcoming Band and Orchestra concerts are available now on the MVHS calendar.
Leave a Comment