'West Side Story' Review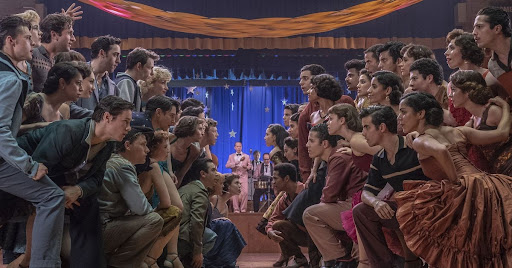 Warning this article will contain major spoilers for West Side Story.
This article will refrain from talking about the character Tony and his actor due to allegations against the actor.
Image description: The dance off in the gym scene leading up to Maria and Tony first meeting. (picture is a promotional image to promote the film and has no listed photographer)
West Side Story has been a staple in the world of theater since its original broadway run in 1957. The original broadway run was nominated for six Tony awards and won two. Because of the success of West Side Story on Broadway it was made into a movie premiering in 1961. The movie was an even bigger success than the original show. The 1961 West Side Story movie was nominated for 11 Oscars and won 10 of them including best picture. With the original movie now being considered a classic it was a hot topic when it was revealed that Steven Spielberg would be creating a remake of West Side Story. Spielberg's West Side story came to theaters on December 10, 2021. Despite all the neigh sayers and debate of whether this should even be happening it is safe to say that the new West Side Story blew everyone's expectations out of the water and has even been said to be even better than the original.
The original premise and story of West Side Story are essentially the same with minor changes but what this new adaptation does to elevate it and make this story that takes place in the 1950s relevant in our time. West Side Story is inspired by and in a sense an adaptation of William Shakespeare's 'Romeo and Juliet.' West Side Story is the tale of star crossed lovers Tony and Maria and the rivaling gangs that they are associated with. This story takes you on a rollercoaster of emotions that will have you leaving the theater really thinking about the movie.
One of the things that this adaptation did to make this version even more powerful than ones of the past is the way they were able to incorporate Spanish into the dialogue. One of the main reasons the gangs hate each other is because the Jet's are white and from New York City (where the movie takes place) and the Shark's come from Puerto Rico. In the original adaptation many of the Sharks, including Natalie Wood who played Maria, weren't even of latin descent. With the new adaptation all of the Shark's are of latino descent and even speak spanish. By doing this many of the times the Shark's speak they are speaking in Spanish making the movie both more inclusive and realistic. The movie does not include subtitles for when the characters are speaking spanish, but whether you speak spanish or not the way the actors are speaking their lines you can feel their emotion and it makes the movie more powerful than the 1961.
With West Side Story being a movie musical, singing and dancing within the film are a given, but this film went above and beyond with its musical numbers. Both the singing and the dancing are remarkable and this is obvious even if you know nothing about singing and dancing. The singing, in this version of the film, brings new nuance to these classic songs and elevates the music to a new level. The choreography and dancing throughout this entire movie is truly an exceptional stand out. The choreographer, Justin Peck, clearly has love and respect for the original Jerome Robins choreography. What Peck does is takes inspiration and the classic style of Robin's choreography but raises it up to the level and refinement of dancing that we have today. Whether you like singing and dancing or not after seeing West Side Story you will be able to respect the art, creativity, and talent that it takes from everyone involved.
The final thing to highlight about this adaptation (although there is so much to talk about) is the performances. From the leads Tony and Maria to the ensemble members every single performance in this film draws you in. Rachel Ziegler as Maria was able to bring a breath of new life to the screen and the character as a whole (who if played wrong can be seen as very bland). Ariana DeBose as Anita gives one of the most diverse performances I have ever seen. DeBose is able to make you smile and dance in your seat during "America" and makes you cry in almost every scene you see her in after Bernardo dies. David Alvarez brings everything about Bernardo to life from his love he has for his family and people, to his hatred and intense rivalry with the Jets. Mike Faist as Riff delivers every single one of his lines in such a way that you can't help but to be enthralled with his performance and leaves you absolutely devastated when he dies. There are so many performances that deserve their own spotlight but the final one that was an absolute game changer to this story was Rita Moreno (who played Anita in the 1961 film adaptation and won the oscar for best supporting actress) as Valentina. Valentina is a new character/adaption of the character Doc for this adaptation. Valentina is a Puerto Rican who married a white man. In this way she serves as a bridge to the rivalry. Moreno is able to deliver a performance that is so real and we truly sympathize with her and her position. If you know anything about acting you will be able to tell that the acting in this is top tier.
Overall West Side Story was a film that very few wanted but in the end being a film that should watch at least once in their lifetime. The story of West Side Story can teach us so many lessons that the world needs to hear. It is enjoyable, heartbreaking, and touching to the point where you leave reflecting on what you just watched for a while. Get out there and go see Spielberg's West Side Story, you will not regret it.
Leave a Comment