I guess you could say the Oscars SLAPPED this year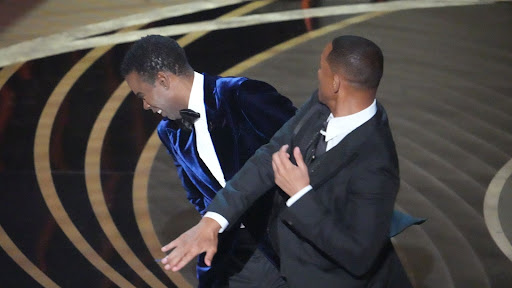 In recent years we have seen the decline of The Oscars in viewership. The Academy Awards, also known as The Oscars, are widely regarded as the most prestigious awards in Hollywood. At these ceremonies they award the best of the previous year in film. However, in recent years it seems like the hype and prestige of these awards has died down and lost public interest. In fact 2021 and 2022 ceremonies were the lowest rated ceremonies in history. Despite the low ratings and viewership this year, everyone was talking about The Oscars in the days following.
The biggest news of the night was Will Smith going up on stage and slapping Chris Rock. Rock was presenting the Best Documentary Feature award at the ceremony, however instead of going straight to presenting the award Rock was cracking a few jokes beforehand. One of these jokes was made toward Jada Pinkett Smith with Rock saying, "Jada, I love you – I can't wait for GI Jane 2". This joke was comparing Jada Pinkett Smith's shaved head to that of Demi Moore's character in the movie GI Jane. Jada Pinkett Smith has spoken about having the medical condition alopecia and has stated that her condition is the reason behind her shaved head. Rock's joke prompted an eye roll from an obviously annoyed Jada Pinkett Smith, however her husband Will Smith was shown to be chuckling a little at the joke. But the mood of the whole situation dramatically shifted once the camera was turned back towards Rock. After a few seconds Will Smith was shown to be walking towards Rock in a serious manner. Before anyone really knew what was happening Will Smith slapped Rock. Rock was very obviously stunned but tried to play it off a little saying,"Wow, Will Smith just smacked the **** out of me" as Will Smith walked back to his seat, but the situation didn't end there. Upon returning to his seat Will Smith proceeded to yell at Rock stating, "Keep my wife's name out of your ******* mouth" twice at the comedian. This prompted Rock to briefly say that he wouldn't talk about Jada Pinkett Smith and went on with presenting the award. While this was a huge deal on its own, fuel was added to the fire with Will Smith winning the award for Best Actor in a Motion Picture for King Richard later in the evening. During his heartfelt acceptance speech Will Smith apologized stating, "I want to apologize to the Academy, I want to apologize to all my fellow nominees."
This incident was a huge topic of discussion all around the world in the days following the ceremony. Debates over whether Will Smith's actions were justified or not began to pop up all over not just online but in casual conversation and even in classrooms. Jada Pinkett Smith later spoke about how both her and Will Smith consider his actions a mistake. Around two-weeks after the ceremony it was announced that Will Smith is banned from attending Academy events for the next ten years.
While this was considered the "highlight" of the night, the other award winners and historical events that happened deserve recognition as well. Ariana Debose won the Oscar for Best Featured Actress in a Motion Picture for West Side Story, becoming the first openly queer women of color to win an Oscar. Another very important win would be that of Coda winning all three of its nominations including Best Picture. This is so important because the movie focuses on the deaf community, which is a community that is severely underrepresented. There are so many other winners that you cannot name them all but it is definitely worth looking at them all. Overall this year's Academy Awards were definitely worth a watch for entertainment, controversy, and incredible wins.
View Comments (1)