Outfits of MVHS: Sophia Miller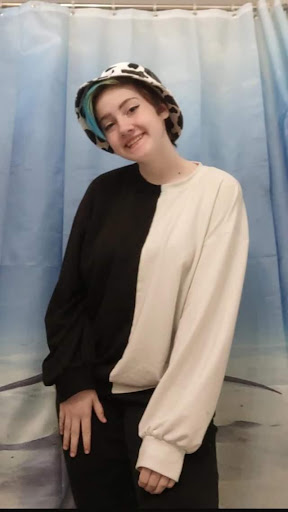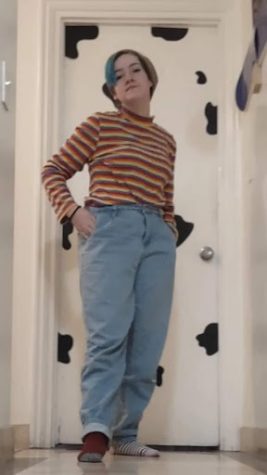 Sophia Miller is a Sophomore at MVHS who indulges themselves in the performing arts. Their style draws inspiration from estranged aesthetics that can only be described with terms like 'gay uncle' or 'teddy-bear'. Vivid and flamboyant button up tees, bucket hats and homemade earrings are what make Sophia's style unique and fresh.
"I like to draw outfits I see in public and that makes my style," they said, referring to the aesthetics that inspire them.
Streetwear is a wonderful thing in the fashion world. Streetwear is an umbrella term for the years of cultural, geographical, social and political factors that make a living and evolving fashion. Streetwear is always reflective of current trends among youthful consumers, it's usually comfortable functionally but still looks tasteful and high effort.
Sophia's favorite part of the outfit would be the details. "The accent piece, whether it be the hat or the shirt. The fun part!"
You can definitely see that Sophia has fun with their outfits, this confidence and positivity is contagious, it's very praiseworthy. They can brighten up a room just by walking in, their outfits subtly uplift people's spirits through their dedication to trendy goofy and jolly aesthetics. "I've made earrings just to tie an outfit together."
Sophia loves layers and color, the best way to build a wardrobe of any aesthetic is to start with defining colors and lots of layering options. Along with their colorful and stylish hair, their daily makeup is playful and flattering. Eyeliner is universally flattering when used properly, yet it can be another accessory to accentuate personal flare. Sophia's eyeliner is unique to their style and face, making it an extension of their individualistic style.
Everyone can learn how to make a distinctive wardrobe personal to them and no matter where you pull your inspiration from, Sophia is a wonderful idol to look towards.
Leave a Comment