Mountain View Cross Country 2022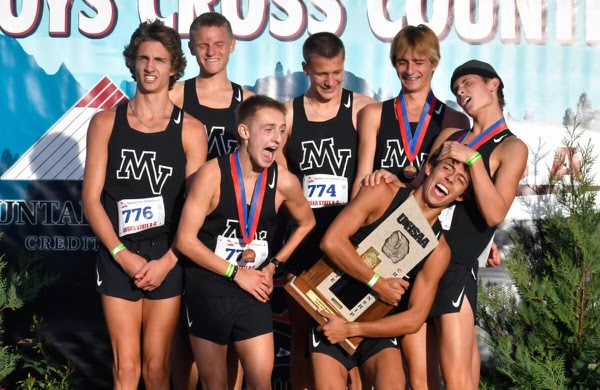 Mountain View Cross Country Season
What a year it was for the boys cross country team. They took state for the second straight year. Liam Heninger led the charge for the bruins by taking second overall, coming in close to Tayson Ecohawk (Orem High). The Mountain View Bruins have been working all season long and the hard work paid off!
The state tournament is different from other sports. In cross country, the place each person gets in the race is counted as a point. They add up the points from the top 4 runners from each team and whatever school has the lowest score wins.
Heninger ran a time of 15.05 taking a very important role in the Mountain View success this season. Parker Barnes also had a very good race taking 8th running a time of 15.20. Mack Waite placed 13th running a 15.47
Waite is one of the captains of the team. He started running cross country back in 8th grade and has spent a lot of his time running since then. Waite has been consistently improving and has been important to the success of this program through the four years he's run for them.
"We trained so hard. We did morning weights every day before state and we were doing 60+ mile weeks," Mack Waite said on getting ready for state. "My favorite memory about state was getting the trophy with my team and knowing we won."
When Mack first started running Cross Country he ran a 5k in 19.19. Now his fastest time which he ran during state was 15.47.
This year, State was in Salt Lake at the Regional Athletic Complex. When I asked Mack what he thought of this course he said "I've only run there a couple of times but it's a pretty fun place to run."
The Mountain View girls cross country team competed in state as well, although they didn't have the outcome they had hoped for they still had a great season and athletes with good times at state.
Mari Konold, senior at Mountain View rolled in the best time for Mountain View and ended up
taking second in the women's state tournament. Mari has run for Mountain View all four years of her high school career. Konold got second place in the state tournament and ran a time of 17:37.6.
"I started running cross country in 8th grade." Said Mari Konold, "I had run track for the first time the year before that and absolutely loved it so when I found out Lakeridge was starting cross country I signed up as fast as I could."
Mari also said, "What I love about cross country is that it teaches you how to handle being uncomfortable. Nothing we do is easy or comfortable so I think that it makes us very strong. I also love the team, we are all very close because we spend almost 4 hours a day together so we are all best friends!
In all it was a great season for both Mountain View cross country teams and we hope next year will be too!
Picture taken by Brian Waite
Mountain View boys cross country team celebrates and takes home state
View Comments (1)